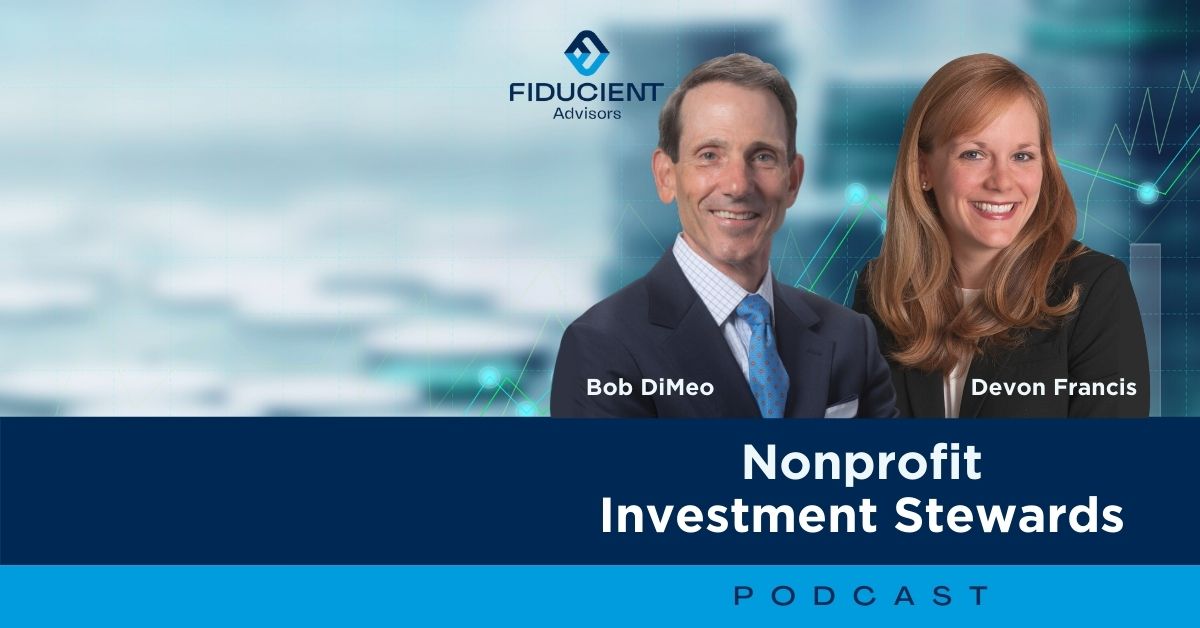 Episode 59 – First Quarterly Quick Take of 2023: Important Investment Updates with Brad Long
A lot has happened in the first quarter of 2023. Continued market volatility, rising interest rates, and the hottest topic right now — the banking debacle!
In the first Quarterly Quick Take of 2023, Bob DiMeo and Devon Francis are back with Brad Long, CFA®, partner and deputy chief investment officer at Fiducient Advisors. They address top stories on the markets and the economy, including their practical portfolio implications.
You will learn:
Three key factors expected to influence endowments and portfolios in 2023

What is driving volatility in stocks, bonds, and alternative investments

How nonprofit leaders, endowment committees, and other investors can navigate current market volatility

Insights into the aftermath of the Silicon Valley Bank debacle

And more!
Resources: Email the Stewards | Fiducient Advisors | Bob DiMeo | Devon Francis | Insights by Fiducient Advisors (Research, Blogs, Podcasts) | 2023 Outlook – Goodbye TINA (There is No Alternative) | Webcast: 2023 Essential Economic Update | Three Top Financial Challenges Facing the Nonprofit Sector – Fiducient (fiducientadvisors.com) | Five Investing Paradoxes Impacting Nonprofits and Endowments – Fiducient (fiducientadvisors.com) | Plain English with Derek Thompson: "The SVB Debacle: The Biggest Myths, the Out-of-Control Blame Game, and the Worst Takes"
About Our Guest:
Brad Long joined Fiducient Advisors in 2012. He is chair of the firm's Investment Committee and a member of the firm's Discretionary Committee, Research Forum, Capital Markets Team and Mission-Aligned Investing Committee. Prior to joining the firm, Brad worked in various research capacities at Citigroup and Wells Fargo in New York. He received a BA in Finance and Minor in Economics from The University of Colorado and is a CFA® charterholder and member of the CFA Society of Chicago and CFA Institute. Additionally, he is active with Greenhouse Scholars, a nonprofit providing financial and personal support to under-resourced college students. In his free time, Brad loves cooking and spending time with his wife and young sons.
Podcast: Play in new window | Download | Embed