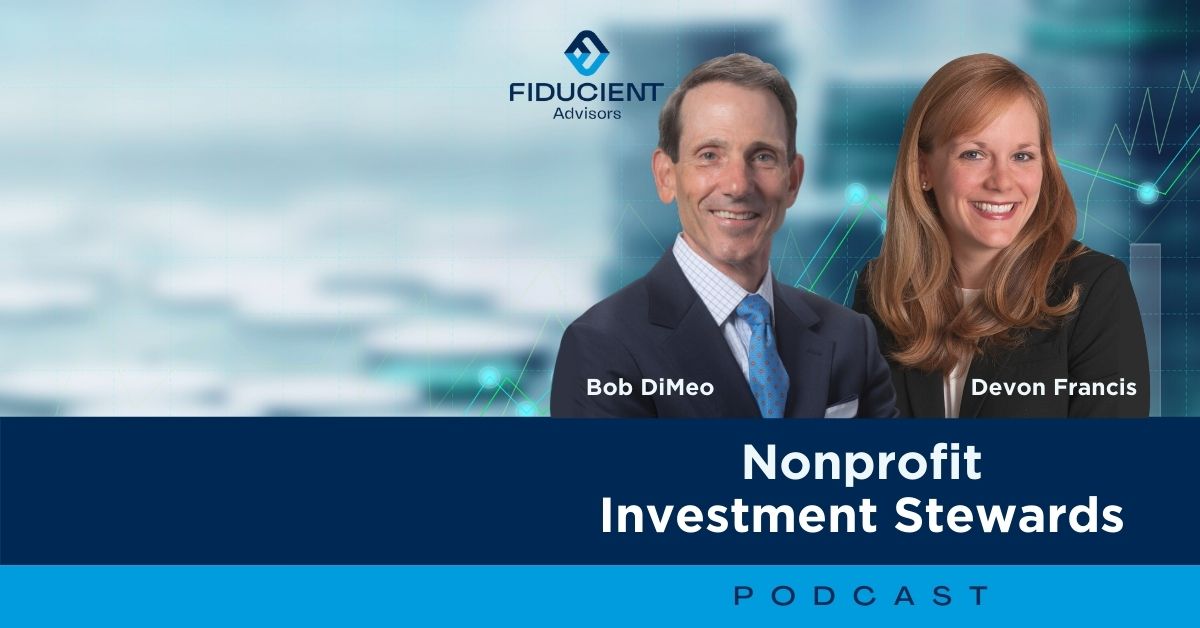 Episode 24 – The Benefits and Pitfalls of OCIO Endowment Management — With Matt Porter
With limited resources and staff, it can be difficult for investment committees to focus on both endowment management and the advancement of the organization's mission.
This circumstance has compelled many nonprofits to consider the Outsourced Chief Investment Officer (OCIO) model.
In this episode, Bob DiMeo and Devon Francis are joined by Matt Porter, managing partner and head of endowments and foundations at Fiducient Advisors. Matt explains how an OCIO might help your investment committee optimize decisions, reduce administrative burden, and more efficiently approach portfolio management to better focus on your nonprofit's long-term goals.
You will learn:
The key differences between an OCIO model and traditional investment consulting

Specific duties that can be offloaded by nonprofits through an OCIO approach

Major advantages and pitfalls of OCIO endowment management

How to outsource various responsibilities while still maintaining decision-making authority within your organization

And more!
Tune in to learn how the OCIO model can help today's nonprofits optimize their investment management!
Resources: Email the Stewards | Fiducient Advisors | Bob DiMeo | Devon Francis | MATT PORTER BIO | Matt Porter on LinkedIn | Investment Office at Fiducient Advisors: Creative and Flexible Management Solutions for Today's Nonprofits
About Our Guest:
As Head of Endowments and Foundations, Matt Porter challenges firm members to think about and embrace innovation and knowledge development. As a Senior Consultant, he advises institutional clients on a variety of topics, including asset allocation, investment manager relations and portfolio rebalances. Matt is the Chair of the Investment Committee, which sets all investment policies for the firm, establishes the framework for asset allocation and reviews and approves investment managers.  Matt also leads the firm's Endowment & Foundation Business Council and is a member of the firm's Research Forum and Discretionary Committee.
Podcast: Play in new window | Download | Embed