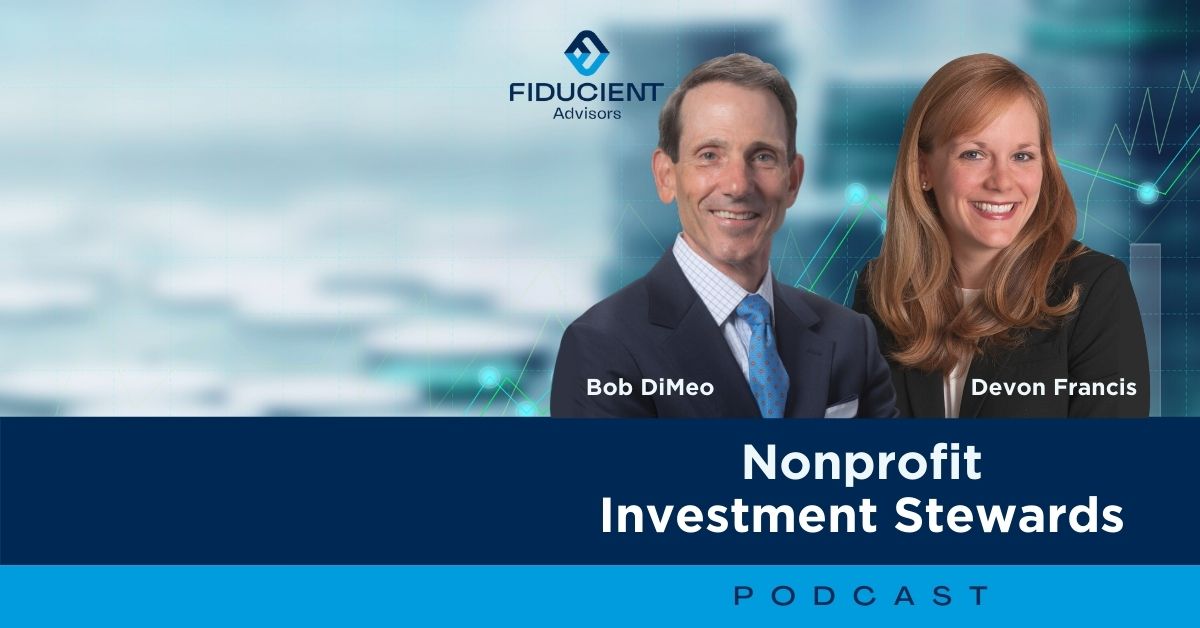 Episode 61 – How Endowments (Especially Schools) Can Navigate Market Volatility With Katharine Wyatt
Many nonprofits, especially schools, are contending with rising costs, challenged revenue streams, and regulatory matters — all of it in a tumultuous market environment.
In this episode, Bob DiMeo and Devon Francis speak with Katharine Wyatt, CFA chief investment officer at Loyola University Chicago. Katherine shares timely insights on how nonprofits and endowments can thrive in the current environment by adapting their asset allocation and portfolio management.
You will learn:
How Loyola University's endowment of over $1 billion is navigating the current markets

Katherine's views on why active management is far from dead

The impact of the demographic cliff on higher education (and how to deal with it)

Example of how Loyola University created a mission-aligned investment strategy

And more!
Resources: Email the Stewards | Fiducient Advisors | Bob DiMeo | Devon Francis | Insights by Fiducient Advisors (Research, Blogs, Podcasts) | Katharine Wyatt on LinkedIn | Loyola University Chicago
About Our Guest:
Katharine Wyatt, CFA, is the Chief Investment Officer at Loyola University Chicago. Ms. Wyatt has over 20 years of experience in the investment industry and is a well-rounded asset allocator with experience managing large institutional portfolios and investing across public and private asset classes. At Loyola, Ms. Wyatt leads the University's investment office, where she is responsible for investment policy and management of over $1.5 billion in endowment, operating reserves and defined benefit pension assets. 
Prior to joining Loyola, she was Director of Investments for Abbott Laboratories retirement plans which included over $18 billion in Defined Benefit and Defined Contribution assets. At Abbott, she was responsible for oversight of investments, including selection, due diligence and monitoring of external managers and was instrumental in building the alternative investments program. Ms. Wyatt started her career as a research analyst at a multi-family investment office covering hedge fund, private equity and private real asset investments.
Podcast: Play in new window | Download | Embed