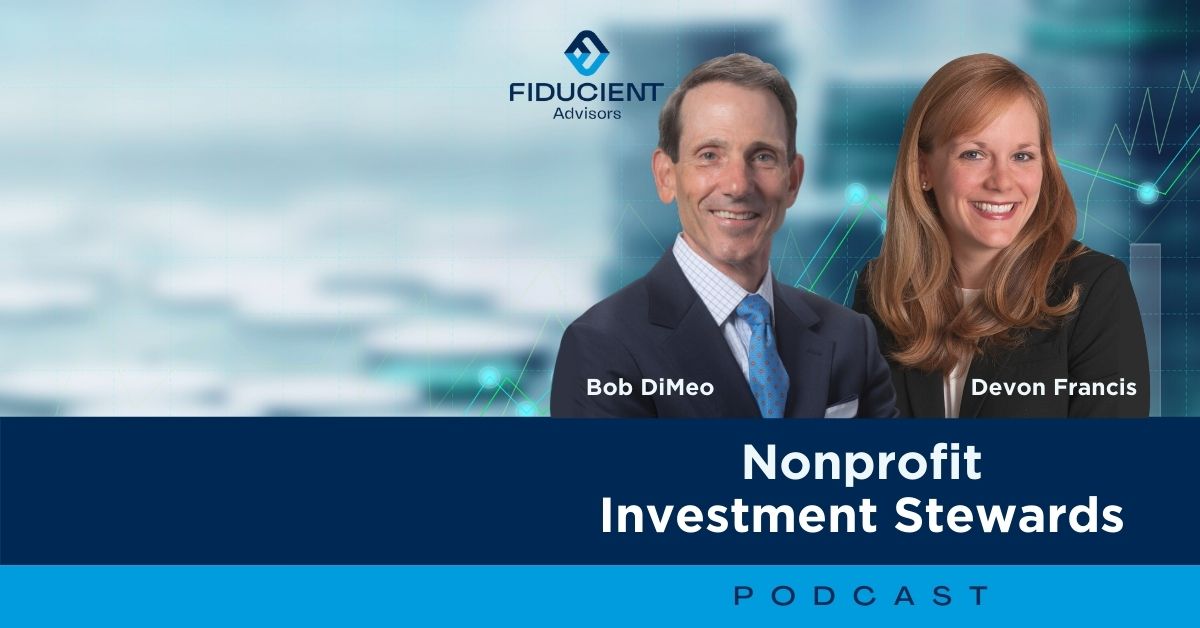 Episode 64 – Quarterly Quick Takes: Market Updates and Year-End Considerations with Brad Long
How have markets impacted your endowment or foundation… and what strategies should you be considering right now? It's time to review this year from a stewardship perspective and consider what strategies to employ heading into 2024.
In this Quarterly Quick Takes, Bob DiMeo and Devon Francis are back with Brad Long, CFA®, Chief Investment Officer at Fiducient Advisors. They share meaningful insights on navigating the uncertainty of markets and the economy going forward.
You'll discover:
The potential impact of market fluctuations and a looming recession 

The importance of fortifying controllable factors, such as expenses and committee best practices

How Fiducient's 2023 forecasts played out thus far – and what to expect going forward

Is now as important as ever for your portfolio to be thoughtfully diversified? 

Domestic vs. International, Cash vs. Bonds, etc.

And more!
Resources: Email the Stewards | Fiducient Advisors | Bob DiMeo | Devon Francis | Brad Long | Insights by Fiducient Advisors (Research, Blogs, Podcasts) | How Nonprofit Leaders Can Think Long-Term To Better Manage Your Money And Your Organization With David Nierenberg
About Our Guest:
Brad joined Fiducient Advisors in 2012. He is chair of the firm's Investment Committee and a member of the firm's Discretionary Committee, Research Forum, Capital Markets Team, and Mission-Aligned Investing Committee. Before joining the firm, Brad worked in various research capacities at Citigroup and Wells Fargo in New York. He received a BA in Finance and a Minor in Economics from The University of Colorado and is a CFA® charter holder and member of the CFA Society of Chicago and CFA Institute. Additionally, he is active with Greenhouse Scholars, a nonprofit providing financial and personal support to under-resourced college students. In his free time, Brad loves cooking and spending time with his wife and young sons in his free time.
Podcast: Play in new window | Download | Embed