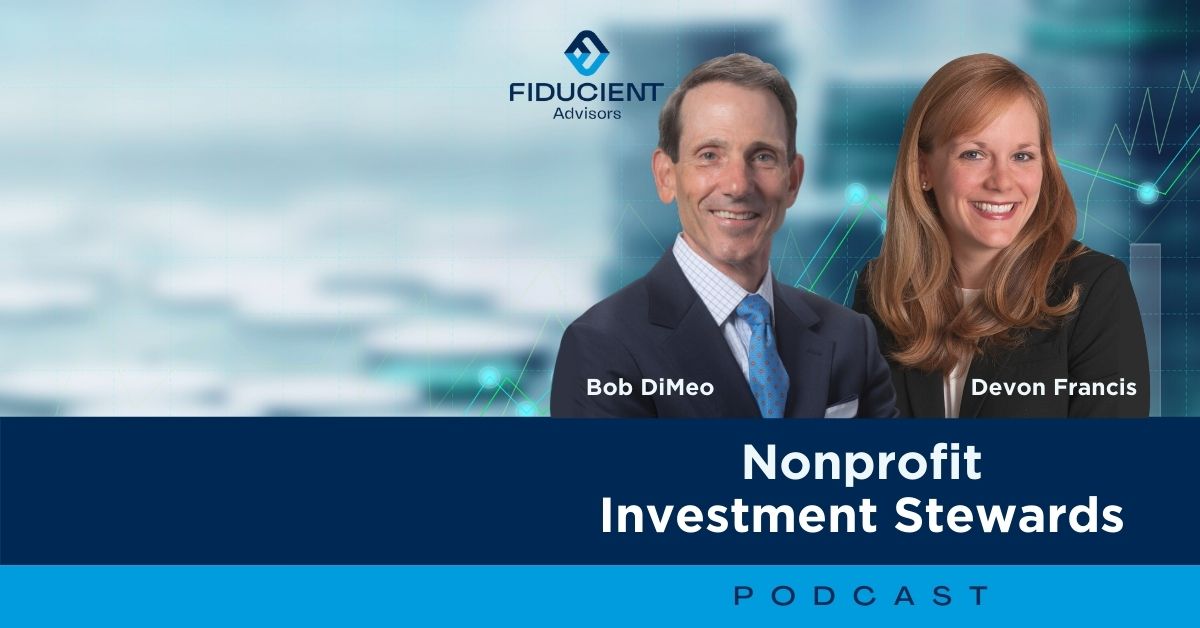 Episode 45 – How Can Mission-Driven Nonprofits Improve Performance in Today's Environment? with Sally Blount
Every organization must take the time to stop, reflect on its performance, and ask, "Are we doing the best we can with our current resources?"
In this episode, Bob DiMeo and Devon Francis speak with Sally Blount, president, and CEO of Catholic Charities of the Archdiocese of Chicago, one of the largest human service providers in the Midwest serving more than 500,000 people annually. Sally sheds light on the current environment for nonprofits and strategies to advance your charitable mission.
You will learn:
The process of re-evaluating and enhancing your nonprofit's performance

Caveats to keep in mind while scaling your organizational services

Factors that lead to effective governance and ideal committee structures

The importance of aligning your investment portfolio with your core values

And more!
Tune in to learn how you can help your organization prosper in the current environment!
Resources: Email the Stewards | Fiducient Advisors | Bob DiMeo | Devon Francis | Sally Blount on LinkedIn | Email Sally | Catholic Charities of the Archdiocese of Chicago | Episode 42: "Investment Considerations, DEI, Nonprofit Leadership and More with Mellody Hobson" | Nonprofit Fundraising and Cryptocurrencies
About Our Guest:
Sally Blount is president and CEO of Catholic Charities of the Archdiocese of Chicago. Moreover, she is the professor of strategy at the Kellogg School of Management at Northwestern University, where she is also a proud alumna and former dean. An internationally recognized thought leader in management and business education, Blount is a highly rated professor and sought-after speaker on leadership development, board governance, and organizational transformation. From 2004-2010, Sally served as dean of the New York University undergraduate College of Business and vice dean of the Stern School of Business. In both deanships, Blount was a record-setting fundraiser, partnering with and leading teams that completed two capital campaigns that were transformational for their institutions, together raising more than $550M. Blount also sits on the board of two Fortune 500 companies, Abbott Laboratories and Ulta Beauty, as well as the boards of the Joyce Foundation and the Economic Club of Chicago.
Podcast: Play in new window | Download | Embed