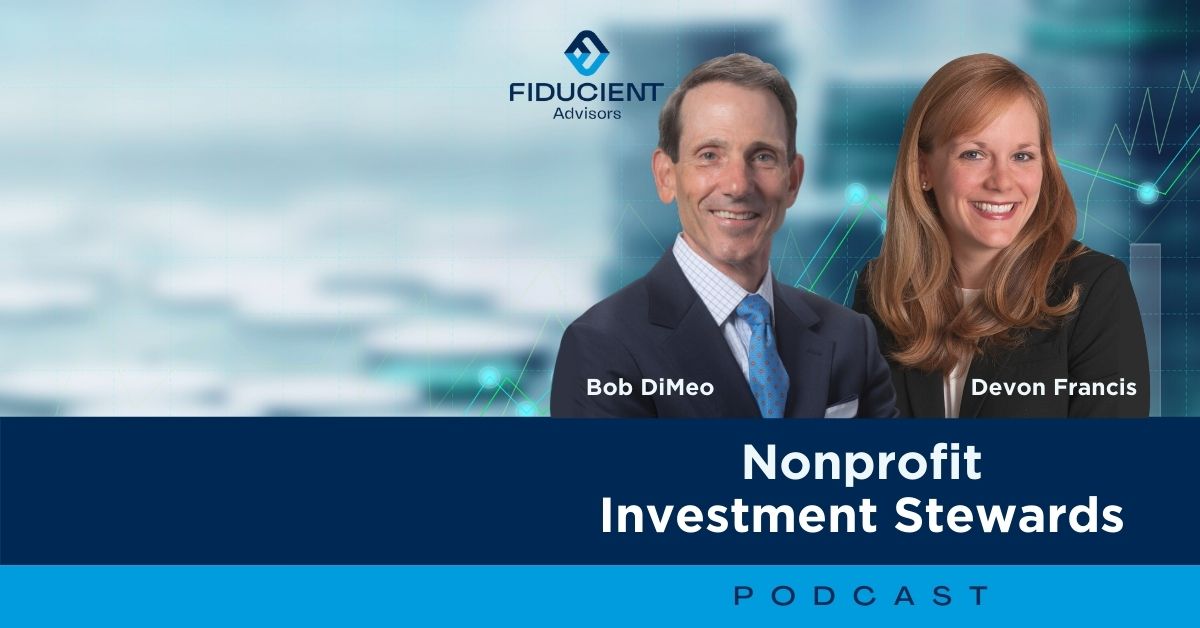 Episode 29 – Nonprofits and Private Equity — With Matt Kaminski
With public equity markets reaching all-time highs in 2021, many investment committees are concerned about future returns.
Consequently, they are exploring or adding allocations to alternative investments, such as private equity.
In this episode, Bob DiMeo and Devon Francis speak with Matt Kaminski, partner and research director at Fiducient Advisors, who directs the firm's Global Private Markets Group. Matt shares valuable insights to how nonprofit organizations can make private equity investments an integral part of their portfolio.
You will learn:
Key updates on private equity markets (past performance and future considerations)

Factors a nonprofit must consider when investing in PE

The potential benefits and pitfalls of private equity investments in today's markets

Why private equity may not only be right for large endowments or foundations

And more!
Tune in to learn strategies for effectively investing in private equity markets!
Resources: Email the Stewards | Fiducient Advisors | Bob DiMeo | Devon Francis | LinkedIn: Matt Kaminski | Matt Kaminski | Private Markets Updates: Growth and New Highs
About Our Guest:
As Partner and Research Director, Matt Kaminski directs Fiducient Advisors' Global Private Markets Group, overseeing investment research and due diligence efforts. He is also a member of the firm's Investment Committee, Research Forum, and Trustee-Direct Discretionary Committee. Matt joined Fiduciary Investment Advisors, LLC in 2009, which combined with Fiducient Advisors in 2020. Prior to joining the firm, he was an Investment Analyst and member of the Consultant Relations team at Fidelity Investments. Matt received a BSBA from Stonehill College, is a CFA® charterholder, and a member of the CFA Institute and the Hartford CFA Society. With his free time, Matt is on the Finance & Audit Committee for Foodshare, Inc. (a nonprofit anti-hunger organization in the greater Hartford area). His personal interests include fishing and biking.
Podcast: Play in new window | Download | Embed