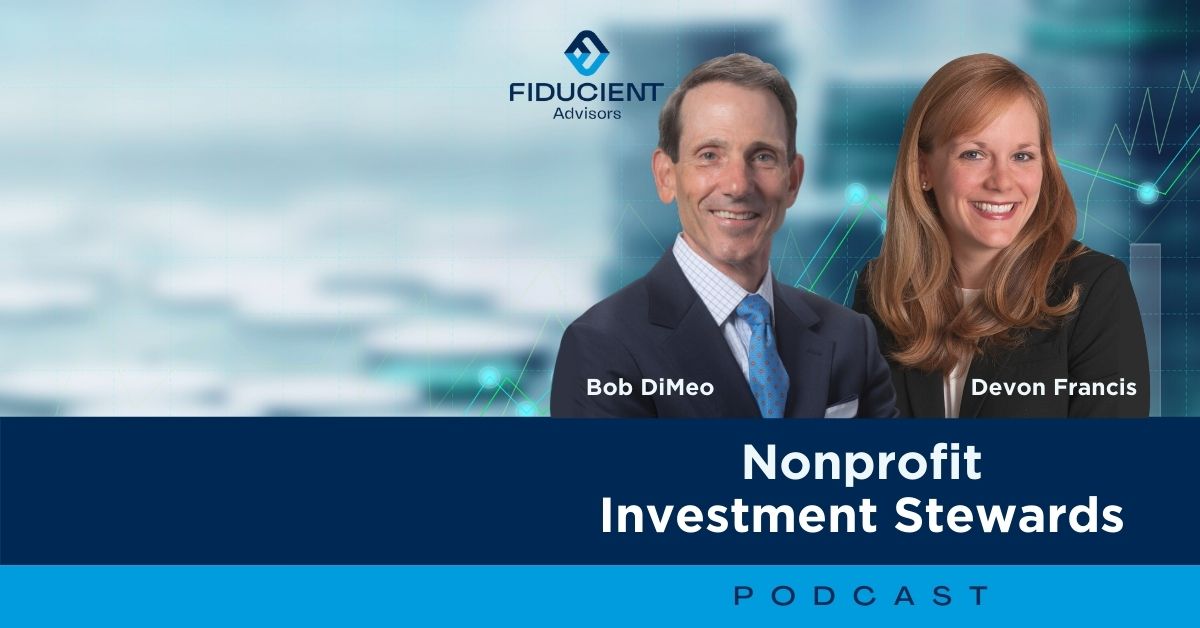 Episode 57 – How Nonprofits Can Add "Sustainability" to Your Endowment With Dr. Troy Hammond
As part of your ESG goals, you might be screening certain investments before adding them to your endowment's portfolio.
If you want to amplify your impact, adding a "sustainability fund" might help.
In this episode, Bob DiMeo and Devon Francis speak with Dr. Troy Hammond, a scientist, business leader, and entrepreneur who served as North Central College's president for nearly 10 years until July 2022. Troy shares actionable strategies for effective endowment management and mission-aligned investing.
You will learn:
Three reasons why renewable energy projects fail (despite having a positive return potential)

How a "sustainability fund" can provide long-term steady income yield

Ways to improve endowment governance and align all stakeholders

Troy's best advice to set nonprofit leaders up for future success

And more!
Resources: Email the Stewards | Fiducient Advisors | Bob DiMeo | Devon Francis | Dr. Troy Hammond | North Central College | TEDx Talks: Sustainability: Why Universities Can Lead by Example With Dr. Troy Hammond | Insights by Fiducient Advisors (Research, Blogs, Podcasts) | "Social Enterprise 2.0: The OWP Difference" by Mike Hamel | "Powering Social Enterprise with Profit and Purpose: The Tandem Hybrid" by Scott Boyer, Jeremy Gudauskas and Mike Hamel
About Our Guest:
A scientist, business leader and entrepreneur, Dr. Troy D. Hammond brought visionary leadership to North Central College over his nearly 10 years as president. Hammond launched his presidency with the bold Brilliant Future Campaign, a $150 million fundraising initiative—the most ambitious capital campaign in the College's history—which brought sweeping physical changes to campus. He also created the Cardinal Sustainability Fund, which led to significant LED lighting and solar projects across campus. During Hammond's tenure, several Cardinal athletic programs soared to new heights, including the College's first-ever football national championship in 2019 and multiple national championships in other sports.
Prior to joining North Central, Hammond was at McKinsey & Company, a global leader in management consulting, where he became an associate principal. He then joined Plextronics, Inc., helping raise substantial venture and strategic capital and growing the technology company into a global leader in printed electronics. During this time, he also served as an adjunct professor of business at Milligan College.
Podcast: Play in new window | Download | Embed