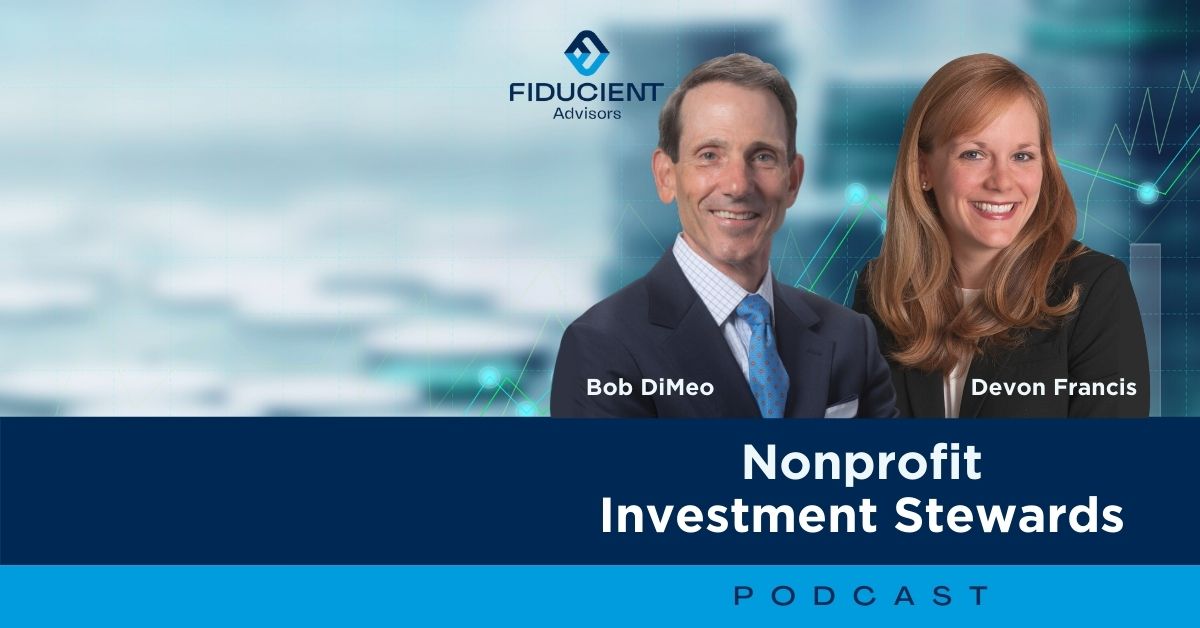 Episode 60 – How Nonprofit Leaders Can Think Long-Term To Better Manage Your Money And Your Organization With David Nierenberg
Episode 60 – How Nonprofit Leaders Can Think Long-Term To Better Manage Your Money And Your Organization With David Nierenberg
Effective leadership and good governance can help maximize your mission but requires strategic, long-term thinking in a world increasingly focused on the short term. 
In this episode, Bob DiMeo and Devon Francis speak with David Nierenberg, director of The National World War II Museum, where he also chairs the investment committee. They explore ways to improve nonprofit leadership and governance and discuss key considerations for investment committee members today.
You will learn:
How nonprofits can continue to advance their mission during uncertain market and economic conditions

What David has seen work well for nonprofit boards and investment committees

The current and future outlook regarding ESG and DEI

Insights into asset allocation based on current market conditions (including alternative investments)

And more!
Resources: Email the Stewards | Fiducient Advisors | Bob DiMeo | Devon Francis | Insights by Fiducient Advisors (Research, Blogs, Podcasts) | David Nierenberg on LinkedIn | "Churchill: Walking with Destiny" by Andrew Roberts | "Man's Search for Meaning" by Viktor E. Frankl | "The Old Man and The Sea" by Ernest Hemingway
About Our Guest:
David Nierenberg wears many hats, including being a Director for The National World War II Museum in New Orleans and Chair of its investment committee.  He is also the longest-serving member of the Washington State Investment Board, which for the past two decades has been a top-performing state pension fund, priding itself on being transparent and ethical. David is Chair of The Ira Millstein Center for Global Markets and Corporate Ownership at Columbia Law School, a world leader in corporate governance. In addition, David estimates he has 200 "man-years" of service on public companies, private companies, government, and not-for-profit boards, which involved him in dozens of strategic plans, CEO searches, and the like. His volunteer efforts for investment committees are vast and span all sizes, from $15MM portfolios to over $200 billion portfolios. David attended Yale for both his undergraduate and law degrees. He and his wife Patricia were named Philanthropists of the Year in Southwest Washington.
Podcast: Play in new window | Download | Embed