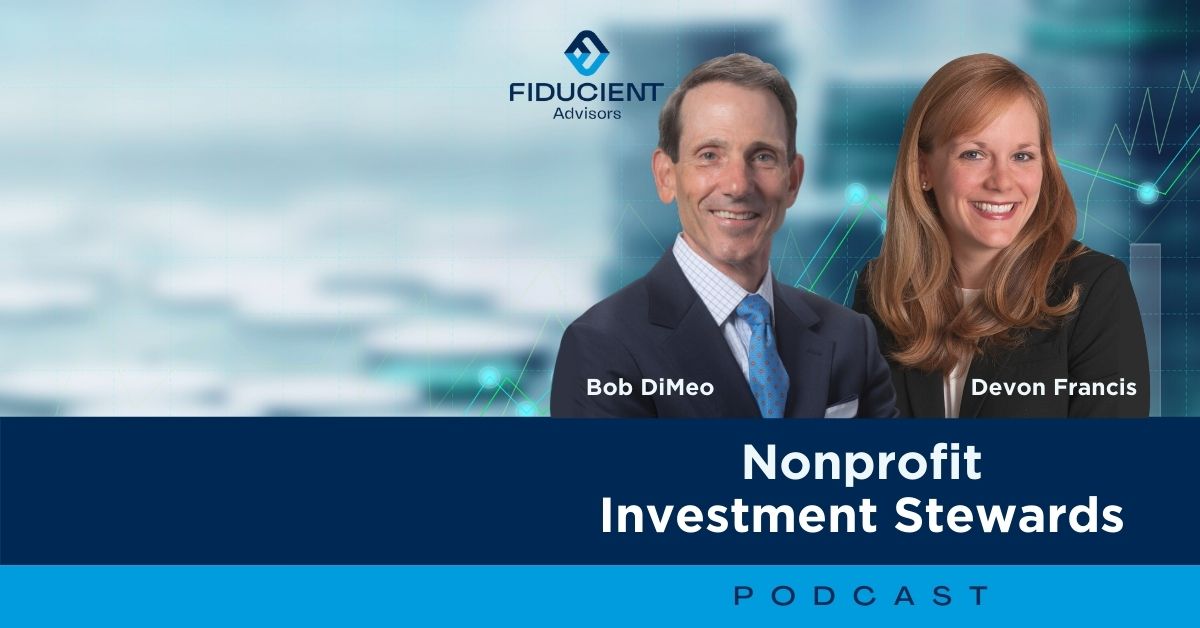 Episode 53 – The Secret Sauce for High-Performing Nonprofit Organizations with Jeffery Perry
High-performing organizations are characterized by strong leadership, a clear goal, and strategic investments.
In this episode, Bob DiMeo and Devon Francis speak with Jeffery Perry, founder & CEO of Lead Mandates LLC. They discuss the major drivers of success for high-performing organizations (especially nonprofits).
You will learn the following:
The importance of having a clear sense of purpose for your organization

Evolution in asset allocation strategies and endowment management

The key to authentic ESG investing (and the impact of the "peanut butter approach")

Personal leadership insights for nonprofit leaders

And more!
Resources: Email the Stewards | Fiducient Advisors | Bob DiMeo | Devon Francis | Jeffery Perry on LinkedIn | Lead Mandates LLC | "Authentic ESG—Not Whac-A-Mole nor Peanut Butter" by Jeffery Perry | "Great Resignation Refocused as Great Reengagement" by Jeffery Perry | "At Your Side for The Rough Ride" by Bob DiMeo
About Jeffery Perry:
Jeff is the Founder & CEO of Lead Mandates LLC, an advisory firm that helps organizations improve business and leadership performance. He is a global strategic business advisor with relevant experience that spans 20 years combined as partner at Ernst & Young LLP (EY) and A.T. Kearney. He is a highly skilled and passionate leader in mergers and acquisitions (M&A), integrations, divestitures, and business transformations, linking strategy to purpose-led leadership and execution.
Jeff is a member of corporate and non-profit boards including: Board Director, Fortune Brands Home & Security, Inc. (NYSE: FBHS); Independent Director (Trustee), Equitable Funds; Board of Trustees Chair, Babson College; Board Chair, Chicago Children's Museum; Former Board Chair, INROADS Inc.; Board Director, National Association of Corporate Directors (NACD) Chicago Chapter; Board Director, Harvard Business School African-American Alumni Association; Association of Governing Boards of Universities and Colleges (AGB) Council of Board Chairs. In addition, he is included in Savoy Magazine 2021 Most Influential Black Corporate Directors and Financial Times Agenda Diversity 100.  
Jeff received his B.S. in Marketing/Quantitative Methods, with high distinction, from Babson College and M.B.A. from Harvard Business School.
Podcast: Play in new window | Download | Embed