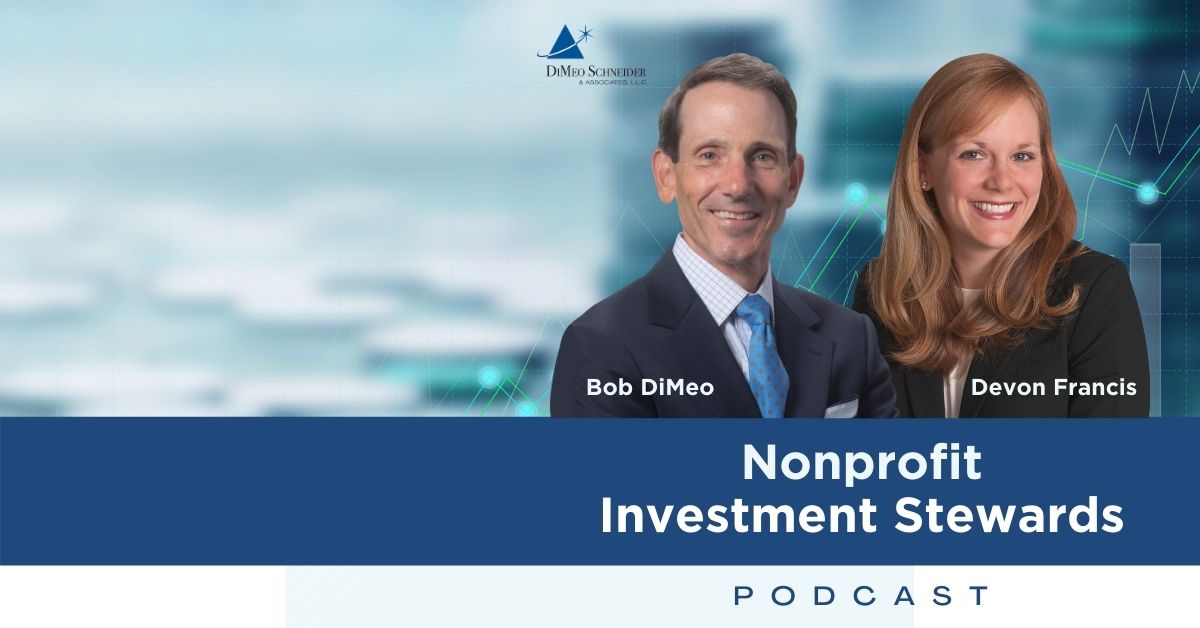 Episode 9: 2021 Investment Outlook for Endowments & Foundations — with Matt Rice
Episode 9: 2021 Investment Outlook for Endowments & Foundations — with Matt Rice
With a new year and a new environment, now is the perfect time to examine your endowment or foundation's investment strategy and asset allocation so that you can adapt to ever-changing market conditions!
To help you do this, Bob DiMeo and Devon Francis join Matt Rice, the chief investment officer at DiMeo Schneider & Associates, in today's episode. They talk about their updated capital market assumptions for 2021 and provide several great tips for prudent investing.
In this episode, you will learn:
How to deal with elevated investment risk over the coming months

How investment committees might address allocation with lower expected returns

The use of alternative investments to diversify your endowment or foundation portfolio

About growth vs. value investing and active vs. passive investing

And more!
Listen now as Bob, Devon, and Matt share valuable insights on what your committee might expect from the markets this year!
Resources: 
DiMeo Schneider & Associates L.L.C. | Bob DiMeo | Devon Francis | Matthew Rice | 2021 Outlook: Poised for Growth | FREE GUIDE: 6 Tips to Managing Nonprofit Investments Request a copy of our 2021 Capital Markets White Paper
Podcast: Play in new window | Download | Embed