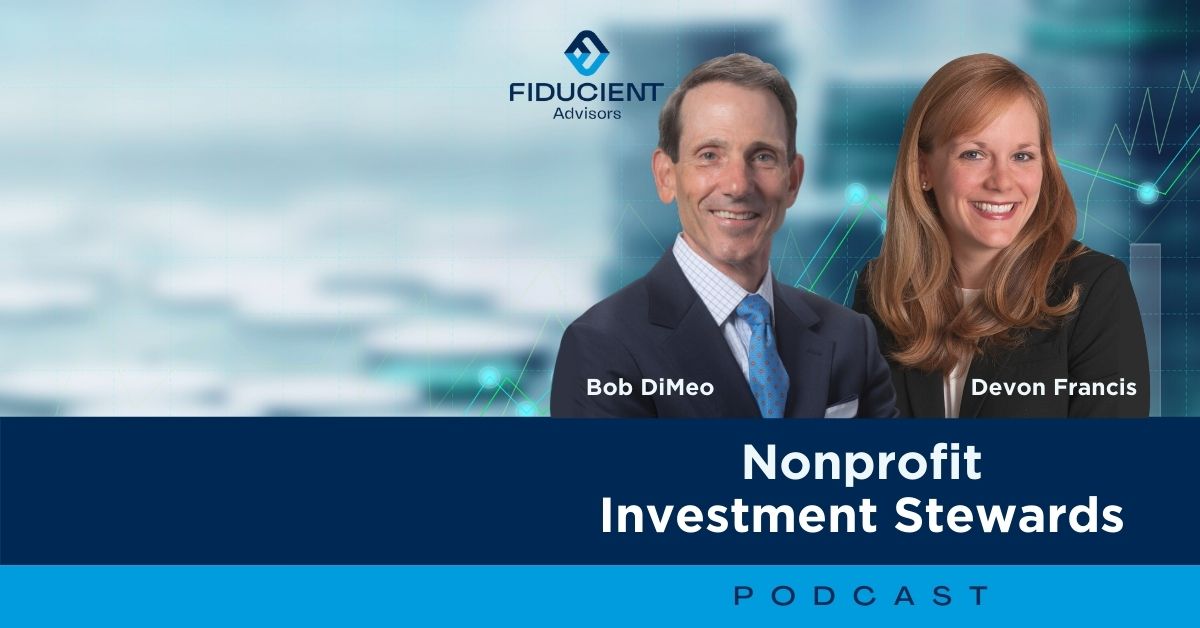 Episode 66 – From Overwhelmed to Empowered: How to Navigate ESG and Mission-Aligned Investing with Sarah Hinman
Do you intend to incorporate ESG investing into your portfolio but don't know where to start?
As reporting standards, disclosure requirements, and available data continue to evolve, it can be overwhelming for investors to navigate this ever-changing landscape!
In this episode, Bob DiMeo and Devon Francis speak with Sarah Hinman, CPA/PFS, CFP®, CSRIC®, Senior Consultant at Fiducient Advisors and co-chair of the firm's Mission-Aligned Investing Committee. They explore the current landscape of ESG and Mission Aligned Investing (MAI).
You'll discover:
How nonprofits and investors can incorporate Mission-Aligned and ESG investing 

Why MAI and ESG investing are never an all-or-nothing approach

The first step for nonprofits to get started with MAI — honing in on their values

What the future of ESG investing looks like

And more!
Resources: Email the Stewards | Fiducient Advisors | Bob DiMeo | Devon Francis | Sarah Hinman | Fiducient's Guide to Mission-Aligned Investing | Mission-Aligned Investing: Where Are We and Where to Next? | From $400 Million to $15 Billion: Scott Malpass' Journey Leading Notre Dame's Endowment and Other Lessons for Leaders | Other Insights by Fiducient Advisors (Research, Blogs, Podcasts)
About Our Guest:
Sarah provides investment consulting services to nonprofit organizations, corporate executives, family trusts, and other substantial investors. She services clients by providing advice and expertise on asset allocation, portfolio design, investment policy statements, manager search process, and overall investment management. Sarah co-chairs the firm's Mission-Aligned Investing Committee.
Sarah earned a BS in Accounting from the University of Illinois at Urbana-Champaign and a BA in Fashion Marketing and Management from The Illinois Institute of Art in Chicago. Sarah also earned a Master of Accounting Science from the University of Illinois at Urbana-Champaign. She is a Certified Public Accountant (CPA), a Personal Financial Specialist (PFS), a Certified Financial Planner (CFP®), and a Chartered SRI Counselor™ (CSRIC®). Sarah also passed the CFA Level I exam. In her free time, Sarah enjoys cooking and reading.
Podcast: Play in new window | Download | Embed