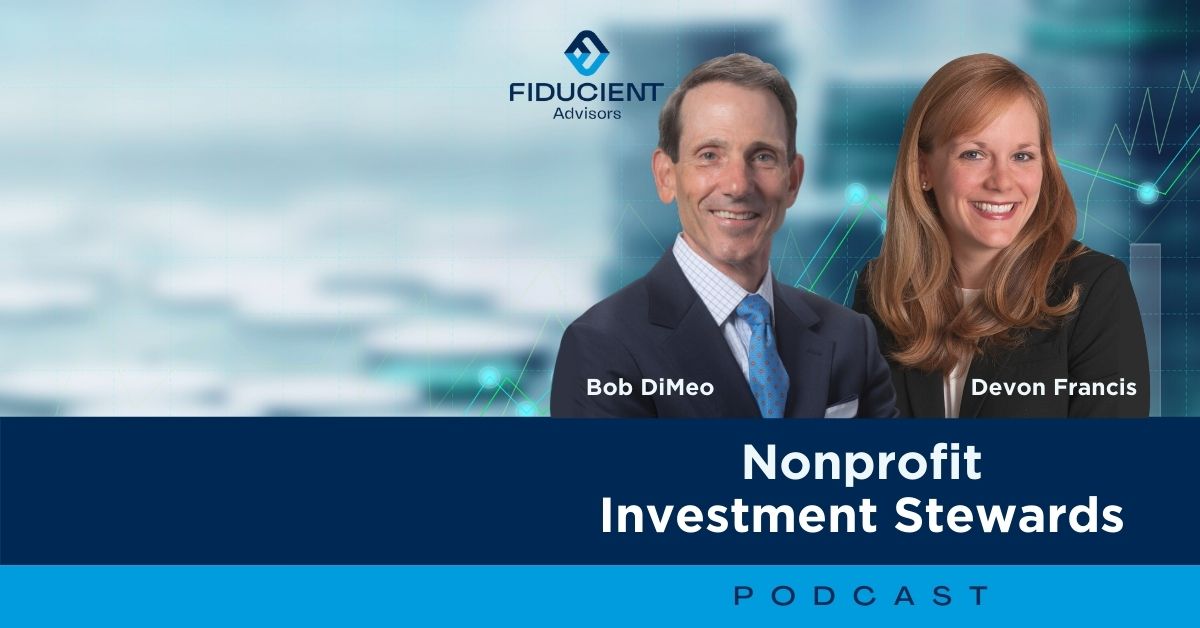 Episode 26 – Endowment Investment Considerations for Today's Market — With Brad Long
If you're looking for investment strategies that help your nonprofit stay relevant in today's ever-changing markets, then this episode is for you.
In this show, Bob DiMeo and Devon Francis speak with Brad Long, CFA, partner and research director at Fiducient Advisors, who oversees the firm's global public markets. They discuss crucial investment considerations for endowments, such as active versus passive investing, portfolio diversification, and mission-aligned investment.
You will learn:
How to construct an optimal portfolio using both active and passive asset management

The need to diversify, especially now – and how allocation strategies can evolve over time

How your nonprofit can achieve mission-aligned investment objectives

Tips for investment committees to overcome emotions and make rational decisions

And more!
Tune in to learn how you can help your nonprofits prosper by making prudent investment decisions!
Resources: Email the Stewards | Fiducient Advisors | Bob DiMeo | Devon Francis | BRAD LONG BIO | Brad Long on LinkedIn | Nonprofit Investment Stewards, ep. 24 – The Benefits and Pitfalls of OCIO Endowment Management — With Matthew Porter
About Our Guest:
As Partner and Research Director at Fiducient Advisors, Brad Long oversees the firm's Global Public Markets research efforts with responsibility for global equity, global fixed income, and global real assets. He is also a voting member of the firm's Investment Committee, member of the firm's Discretionary Committee, Research Forum, Capital Markets Team, and Mission-Aligned Investing Committee. In 2019, Brad was named a "Rising Star" in City Wire's annual Professional Buyer publication for his contributions in the investment manager research industry.
Podcast: Play in new window | Download | Embed